One of VITA Diigital Productions' unique
Virtual Experience Videos
(All photos on this page are
actual still frames
from this video.)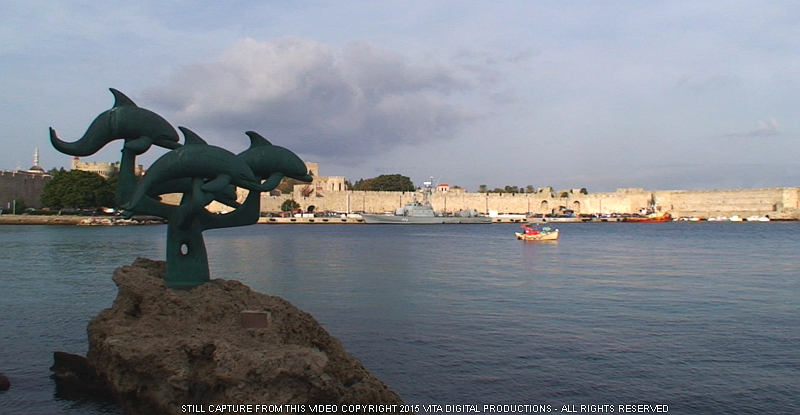 VITA Digital Productions is proud to present its 39th Virtual Experience Video, the
Rhodes, Greece Walk
,
a 60 minute widescreen virtual walk on the picturesque Greek island of Rhodes.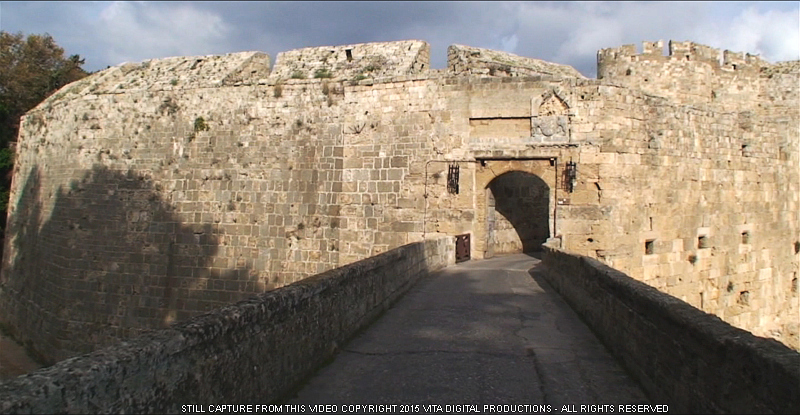 Using either the DVD version or the 720p HD Download you could be instantly "walking" on the largest of the
Greek Dodecanese islands, "the island of the Knights." The time spent exercising on your treadmill
will "fly by," you'll exercise longer and enjoy every minute!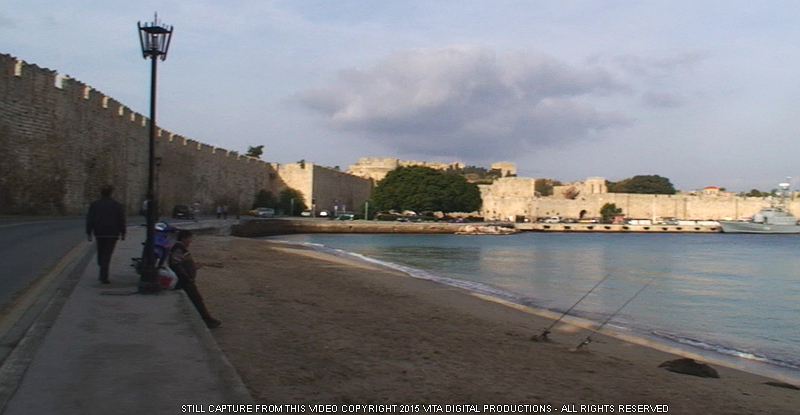 Rhodes is famous for the Colossus of Rhodes, one of the Seven Wonders of the Ancient World,
which once guarded the harbor here.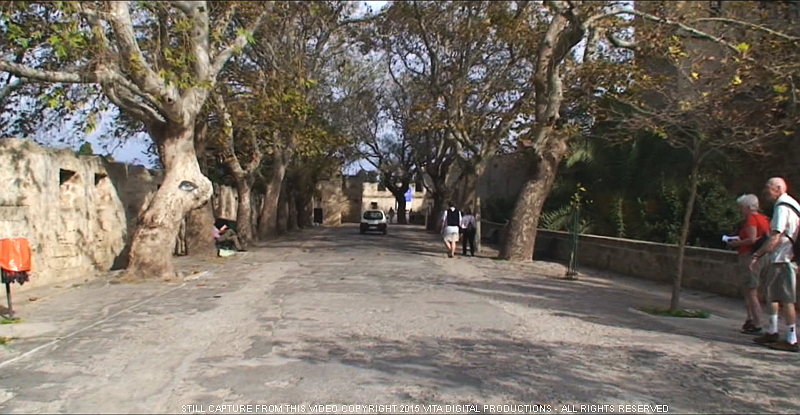 With this 60 minute Virtual Walk Video, you'll experience the charm, the beauty, and the history
of one of the most scenic of the Aegean islands.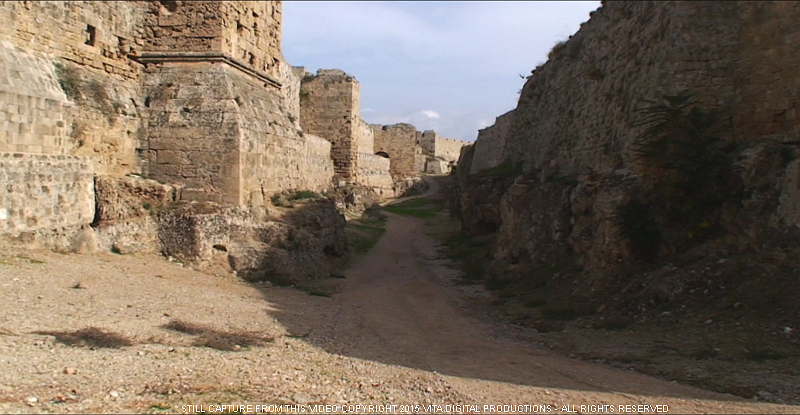 Filmed in Widescreen with a professional High Definition* television camera, you'll enjoy
every minute of your virtual walk on the island of Rhodes.
This is not a traditional travel video.
The television camera is constantly moving you forward, transporting you
through streets and alleyways of this medieval town.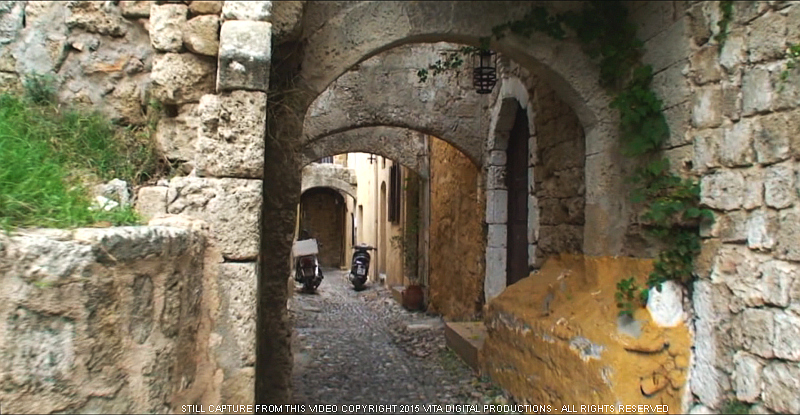 The 60 minute Virtual Walk Video is accompanied by the natural sounds
just as they were recorded in Dolby Stereo on Rhodes.
---
Exercising has never been easier or more enjoyable!

Your time spent exercising on a treadmill will "FLY BY!"

And this one hour video is so rich in details
that you will notice something new every time you view it.

But you don't have to own a treadmill
to enjoy this HD Download or DVD.

It also makes the perfect gift for people who want
to experience the island of Rhodes in a totally unique way:
a way not possible with traditional travel videos.
---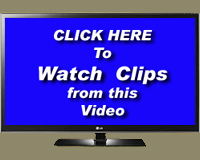 To Purchase this video as a DVD, click here.
To Purchase this video as a 720p HD Download, click here.
---

A Detailed Description of the Virtual Walk on this Video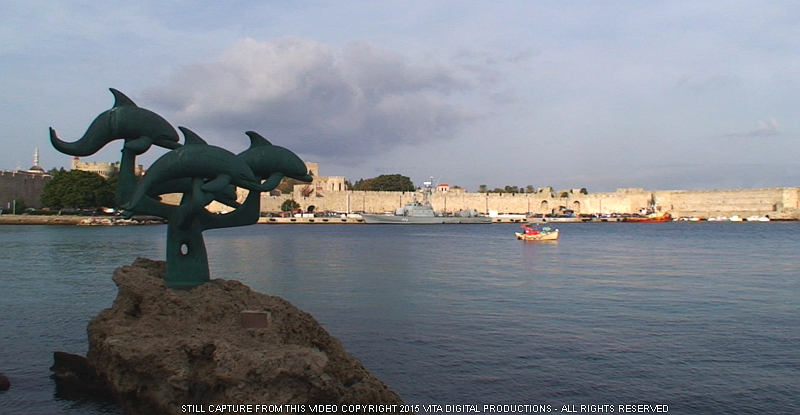 Your 60 minute Virtual Walk begins beside the Kolona Harbour in Rhodes, once the site of
the Colossus of Rhodes, one of the Seven Wonders of the Ancient World.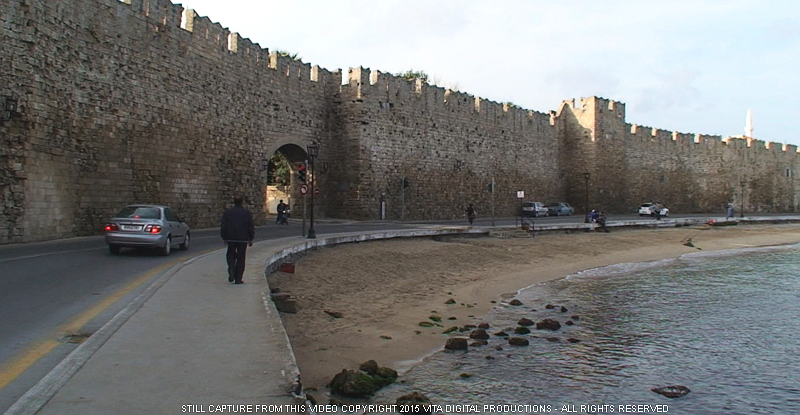 Your early morning walk follows the east wall of the medieval city of Rhodes as it curves around the harbor.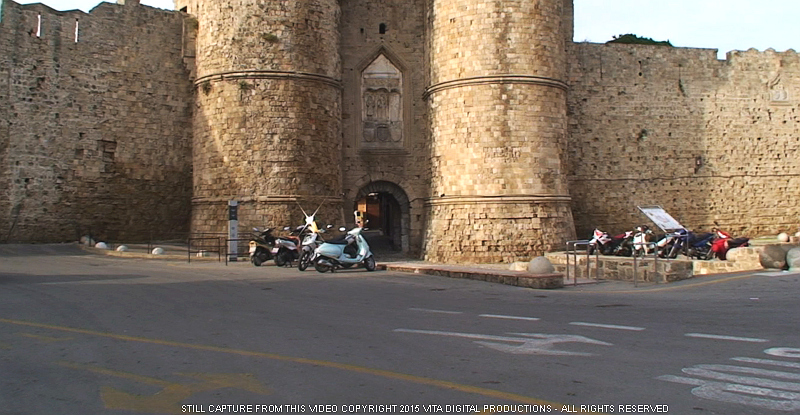 You enter the old town of Rhodes by passing through the Marine Gate (one of 11 gates to the city),
the main entrance to the town from the harbour.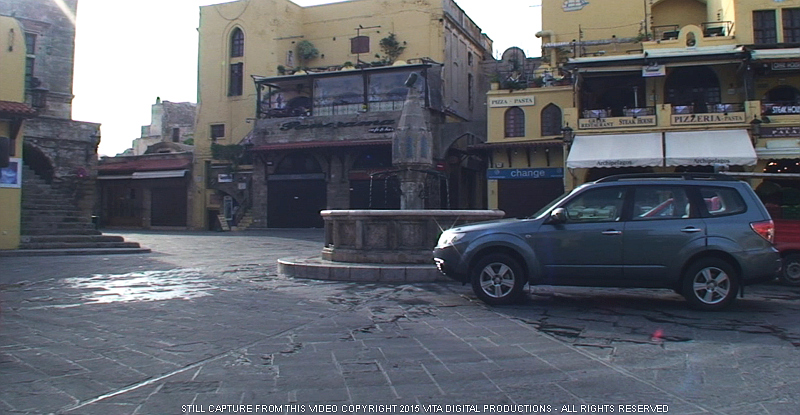 Turning left after passing through the gate, we enter Platia Ippokratous and walk past its medieval fountain.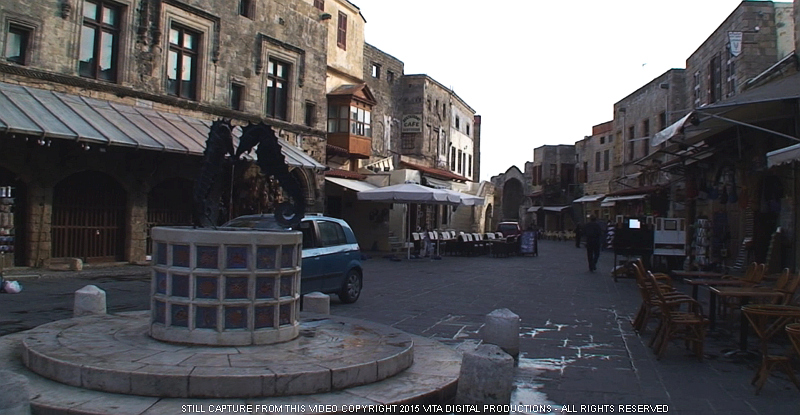 Further on, we pass through the Square of the Jewish Martyrs and its Hippocampus fountain.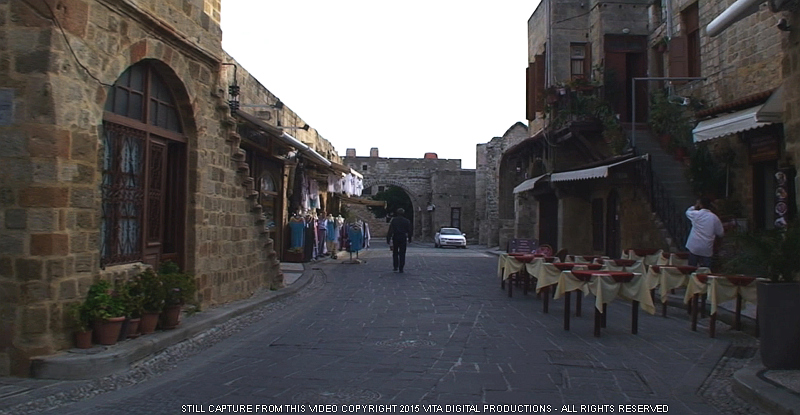 It's early in the old town of Rhodes, around 9 A.M., and shop owners are setting up for the tourists to come.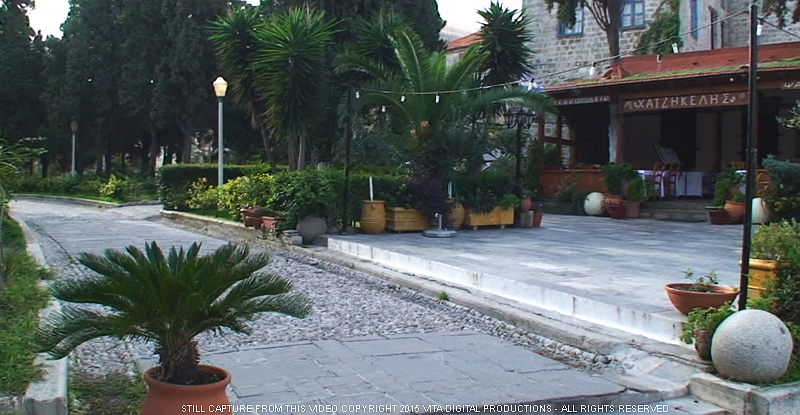 In a few hours, these streets will be bustling with tourists from cruise ships visiting the Greek Isles.
But for now, at least, we appear to have the medieval town to ourselves.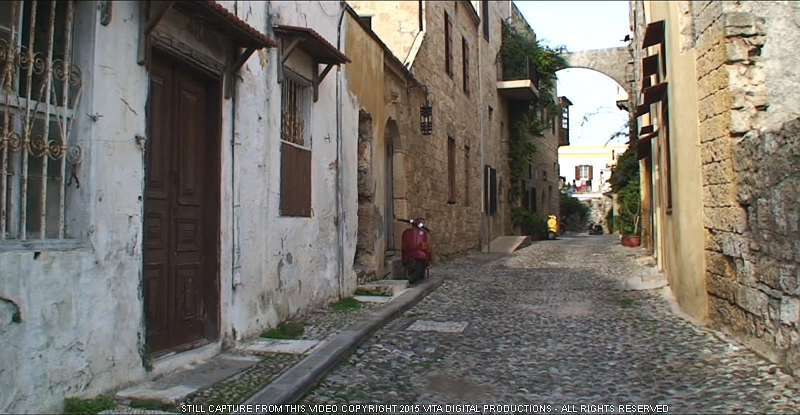 These old streets have so much character - and so many details to see....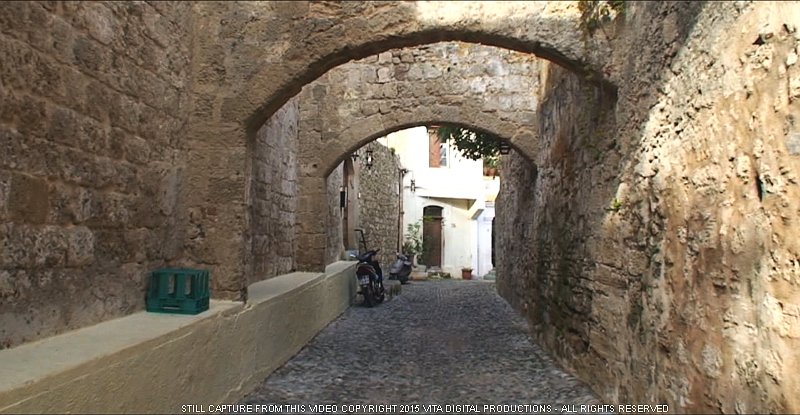 and if only you could remove the mopeds and plastic crate, you could easily imagine you're back in medieval times.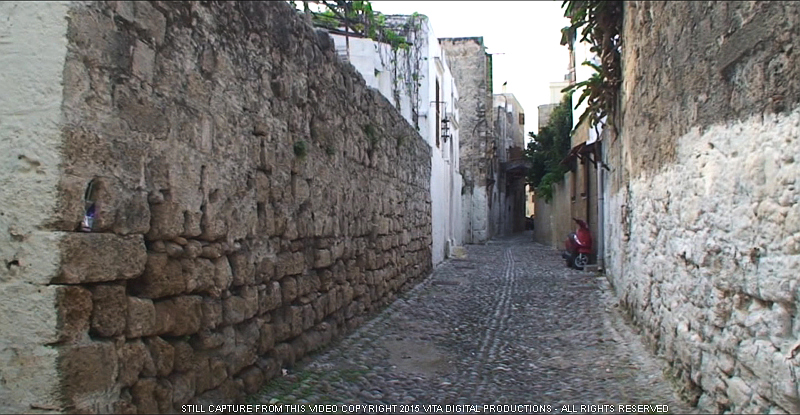 Rhodes has been the setting for numerous TV episodes and movies such as "The Guns of Navarone,"
"Boy on a Dolphin," "Escape to Athena," and "Surprise Package."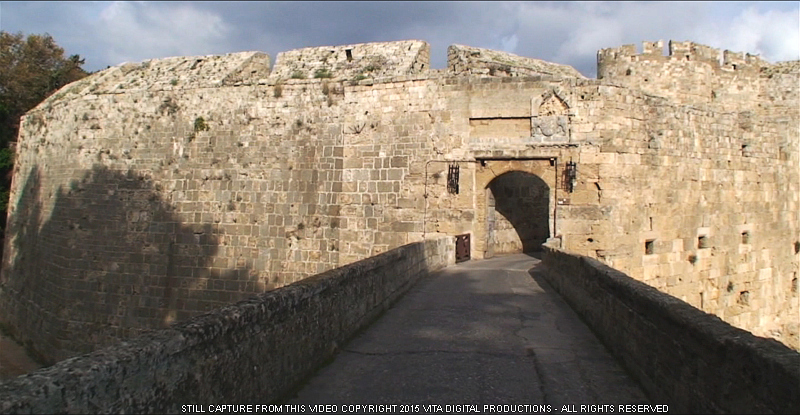 Our Rhodes walk next takes us to and through the Gate of Saint Athanasiou, built around 1442.
According to tradition the troops of Suleiman the Magnificent entered Rhodes through this gate.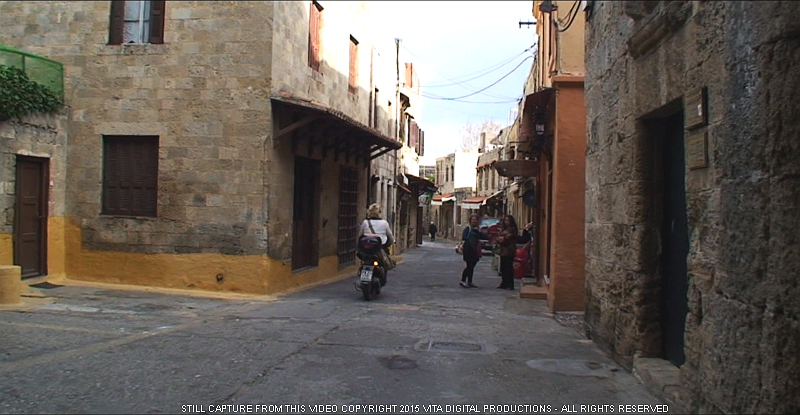 Once through the gate, we have to dodge motorbikes with their riders hurrying through the narrow streets.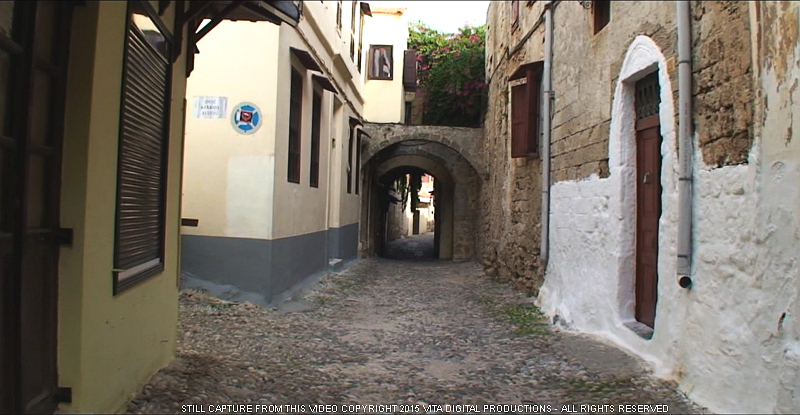 Then we walk through more quaint Rhodes back streets before....
entering a street with rooftop restaurants, outdoor cafes, and shops.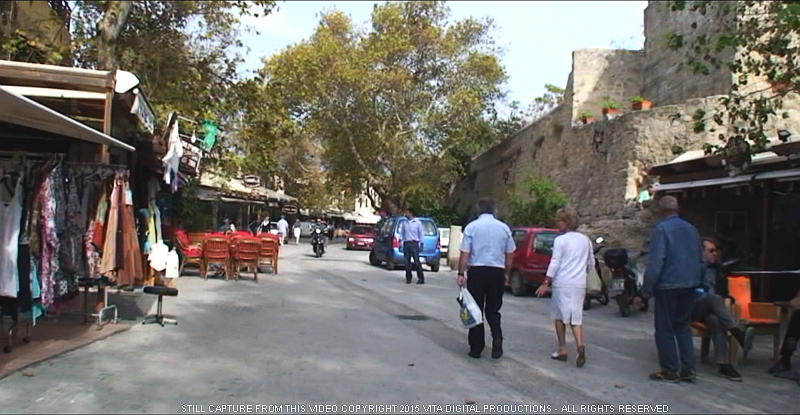 Now, Rhodes is coming to life with tourists from the cruise ships in its harbor.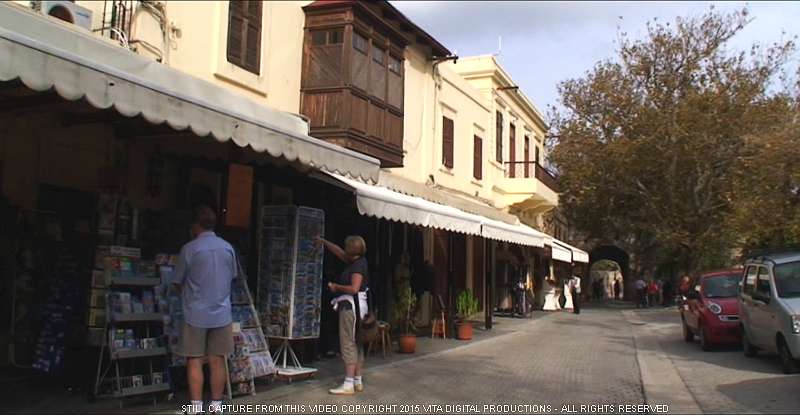 The scenery on this walk is certainly varied; one minute you're walking past shops with tourists looking at postcards....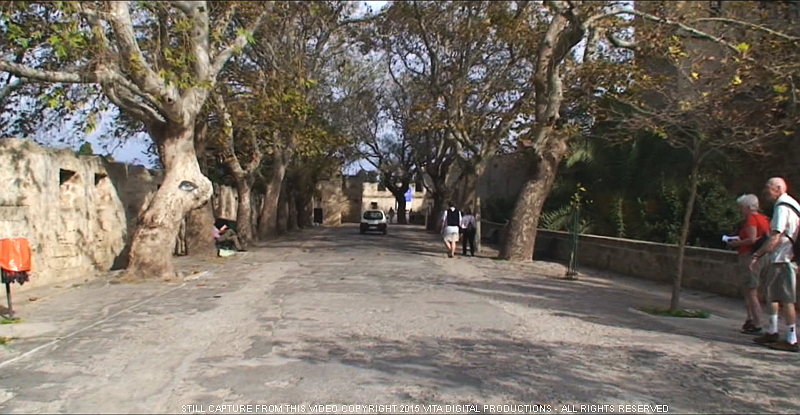 and the next minute you're walking through a tree lined medieval street.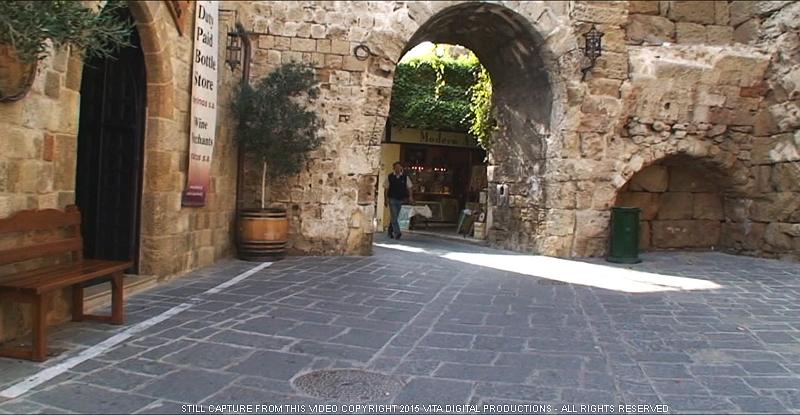 One minute, you pass under an ancient arch....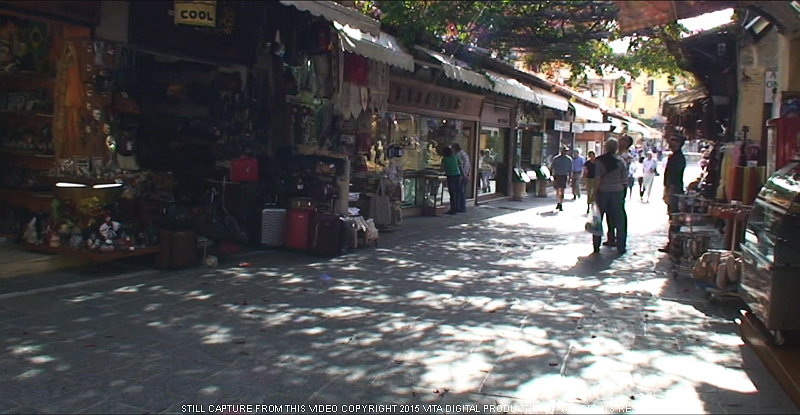 the next minute, you're walking along a shady shopping area.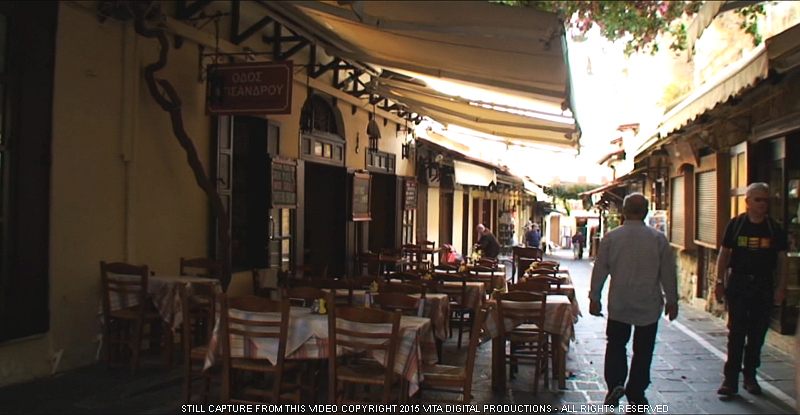 You pass so many sidewalk cafes, you want to pause for some Pitaroudia, a traditional dish from Rhodes and the Dodecanese.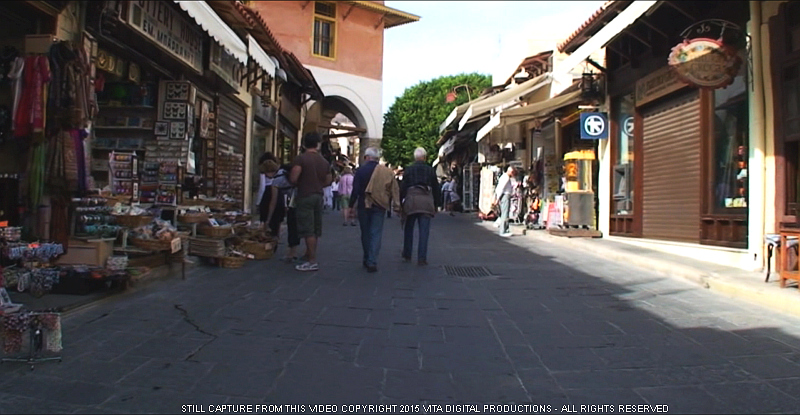 Again, you find yourself walking in a tourist area with its shops and you turn...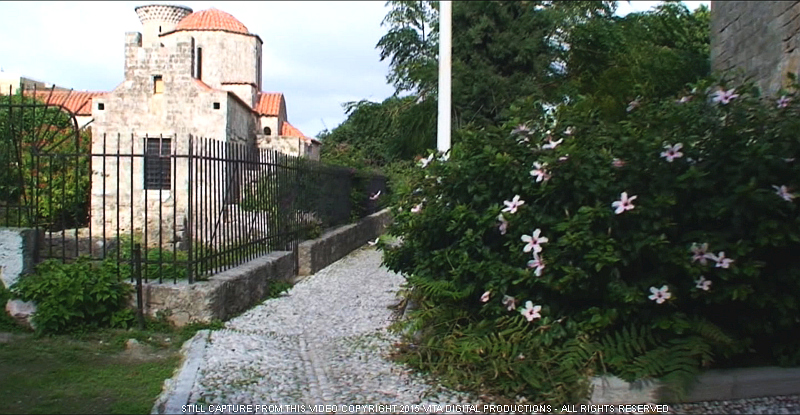 into a quiet back street with a different kind of Greek charm.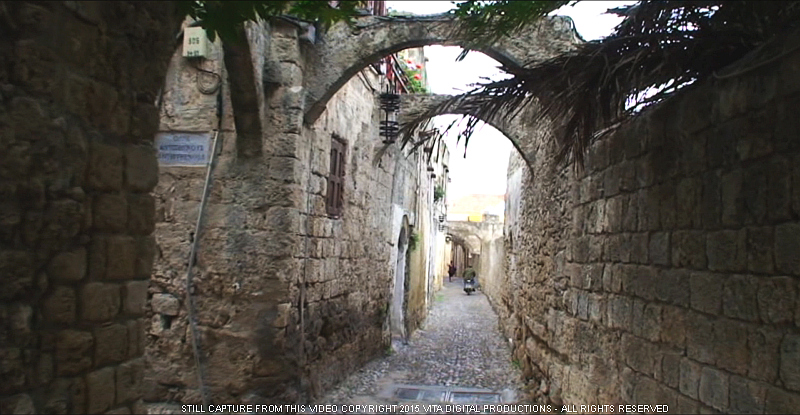 The last section of your 60 minute Rhodes Virtual Walk begins in another scenic and timeless back street.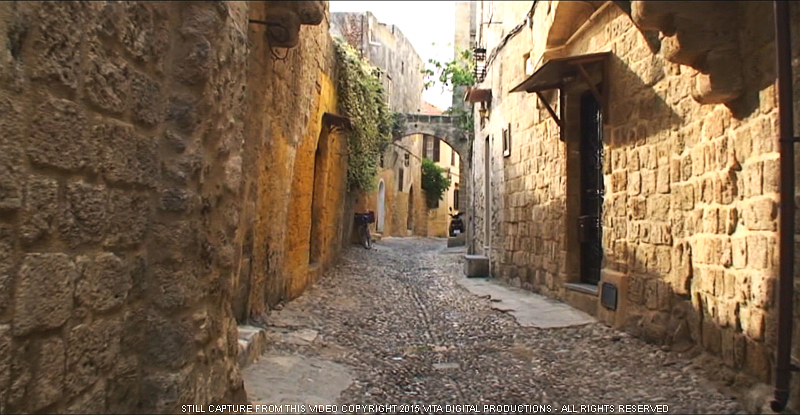 The warm Mediterranean sun falling on the rich old stones creates a unique setting.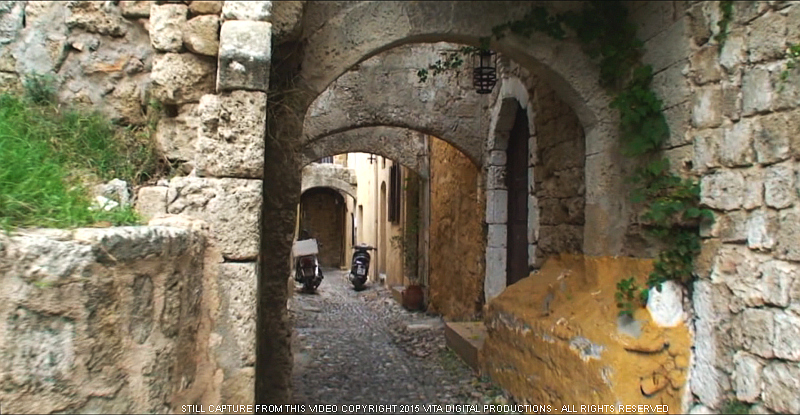 As your walk continues through these old backstreets, you can understand why Rhodes is considered one of the
best-preserved medieval towns in Europe, which in 1988 was designated as a UNESCO World Heritage Site.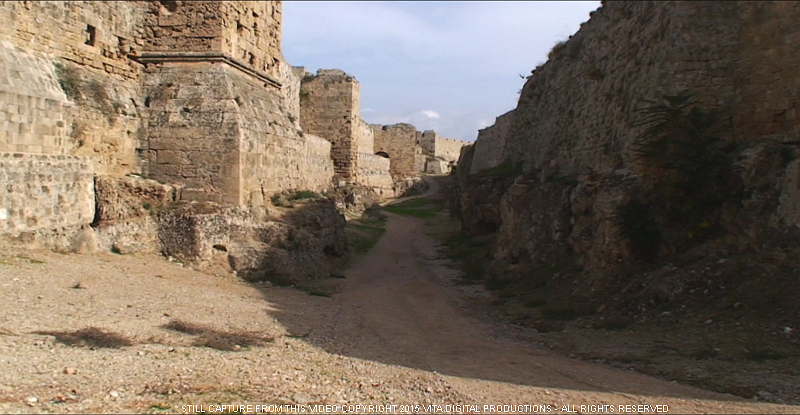 After descending some old stone stairs, your walk continues in the dry moat around the walls of
the old city of Rhodes.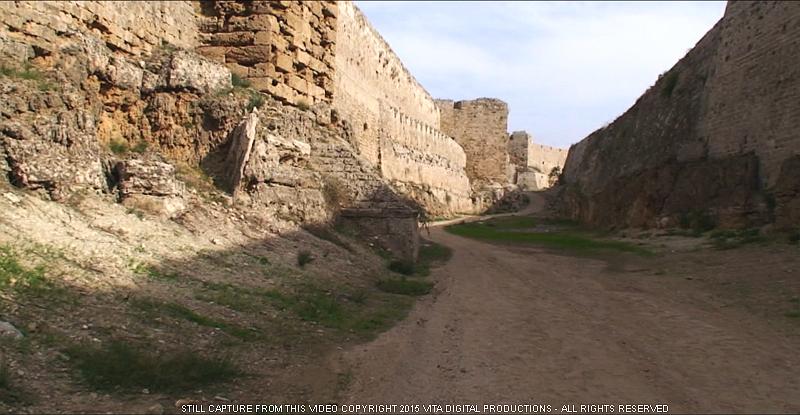 You can't help but be amazed at the human effort that went into the construction of these old fortifications.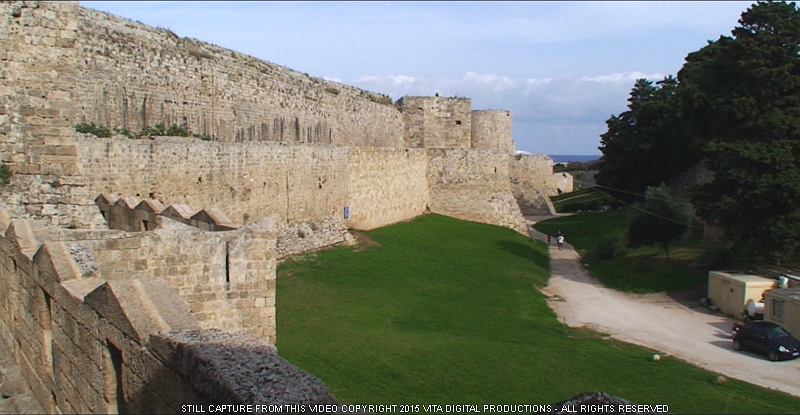 Your one hour Rhodes Virtual Walk ends with this view of the ancient wall and, in the distance,
the Mediterranean.
---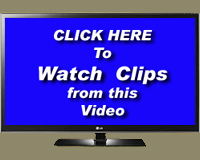 To Purchase this video as a DVD, click here.
To Purchase this video as a 720p HD Download, click here.
---
And remember, this DVD makes a unique gift for family and friends!
---
PRODUCTION NOTES:
This 60 minute virtual walk was filmed at an average speed of 3 mph and is accompanied
by the Natural Sounds in Dolby Stereo as they were recorded on the Greek island of Rhodes.
All of the above photos are actual still frames from this video/DVD.
*While originally filmed in High Definition, the DVD you will receive
is in Standard Definition and 16x9 Widescreen and was authored at the highest resolution possible.
The DVD was encoded for regions 1, 2, & 4, and is a "burned" DVD which was duplicated,
tested, and verified in our studio before being packaged and shipped to you.
To keep cost low, this DVD is not shrink-wrapped. For a shrink-wrapped version of this
DVD, please
click here to visit our Amazon Store.
The DVD contains an interactive menu and will play on DVD players and computers.
The Download version is in 720P HD and will play on iPads, Computers, Laptops,
and Netbooks using amost any media player. It will also play on Large Screen TVs using
certain devices such as WD Live Plus, X-Box, Roku, flash drives, etc.
Important: Sorry, but the Download version will not play if you burn it directly to a DVD.
---
COPYRIGHT NOTICE:

We are VITA Digital Productions and we are selling this Video Program.
We filmed all of the video footage used in this program, we edited it,
we have licensed the rights to any music used in this production,
and we own the copyright to this program and will aggressively defend it.

The program contained in this DVD and Download is licensed for HOME USE ONLY.
If you intend to use this program in connection with a business of any kind,
such as a gym, rehab facility, etc., you must contact us to obtain a business license
for a small additional fee.

Please click here to contact us.


---
Copyright 2017 VITA Digital Productions - All Rights Reserved